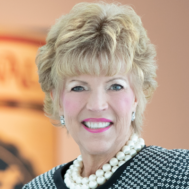 Director of Global Engagement
Roxanne is an accomplished global business strategist with a solid track record of more than 25 years in generating business results. In 2009, she launched Wisconsin's award-winning ExporTech™ program. ExporTech is a C-suite export expansion, fast-track strategy process that results in manufacturers averaging $1 million in new revenue in the first year while adding an extensive number of jobs.
One ExporTech graduate went from $400,000 in revenue to $14 million in three years while adding 16 employees. Wisconsin's ExporTech program is nationally accredited by the U.S. Department of Commerce and the Brookings Global Cities Initiative and has been deemed "the best in the nation," graduating four Wisconsin Governor's Export Achievement Award winners based on three-years of revenue growth; four U.S. Department of Commerce President's "E" Export Excellence Award winners; and the largest percentage of graduates nationally.
The seamless collaboration with Wisconsin Economic Development Corporporation (WEDC) won ExporTech the national Excellence Award in Responding to Globalization.Roxanne inspires confidence in business executives, moving them from reactive, accidental exporters to proactive strategic exporters by simplifying and demystifying strategy development through focus on processes, innovation and business growth outcomes.
Her real-world experience comes from global sales management with a medium-sized manufacturer to managing the International Parts & Accessories and Licensed Products division of Milwaukee-based Harley-Davidson Motor Company. Roxanne has conducted business in Canada, Europe, Latin and South America, Australia, and the Pacific Rim. In 2006, she received the U.S. Department of Commerce's NIST MEP Innovator of the Year award and in 2009 was honored with the Career Achievement award from the Milwaukee World Trade Association for her distinguished service and steadfast career efforts to promote international trade in Wisconsin. At Wisconsin Trade Day in 2017, Lt. Gov. Rebecca Kleefisch hosted roundtable discussions with Roxanne on strategic exporting. In 2013, she joined Gov. Scott Walker at the Japan-Midwest U.S. Association Conference in Tokyo. In 2018, Roxanne received the national award for Advancing International Trade from the National Association of Small Business International Trade Educators. She is a member of the Brookings Institute Milwaukee7 core team for Global Cities Exchange, serves on the University of Wisconsin-Steven's Point's Chancellor's Global Expansion consortium, the University of Wisconsin-Milwaukee Lubar School Global Advisory Council, and is a member of Professional Dimensions. A lifelong Wisconsin resident, Roxanne is a sought-after speaker on global trade expansion for manufacturing.
She is a member of Professional Dimensions, a past Board member and President of the Milwaukee World Trade Association, a member of the Milwaukee Purchasing Executives Forum and has served on the International Trade and eBusiness Advisory Boards of local technical colleges.
Roxanne holds a Bachelor's Degree from UW-Stevens Point and has done post-graduate work in business, international business and quantitative studies.