By: Patricia Henning Strother • President, Strother Communications Group
SCG's 4-step flight plan is a reliable pathway to reach targeted revenue.  This model is particularly helpful for companies seeking dramatic revenue growth.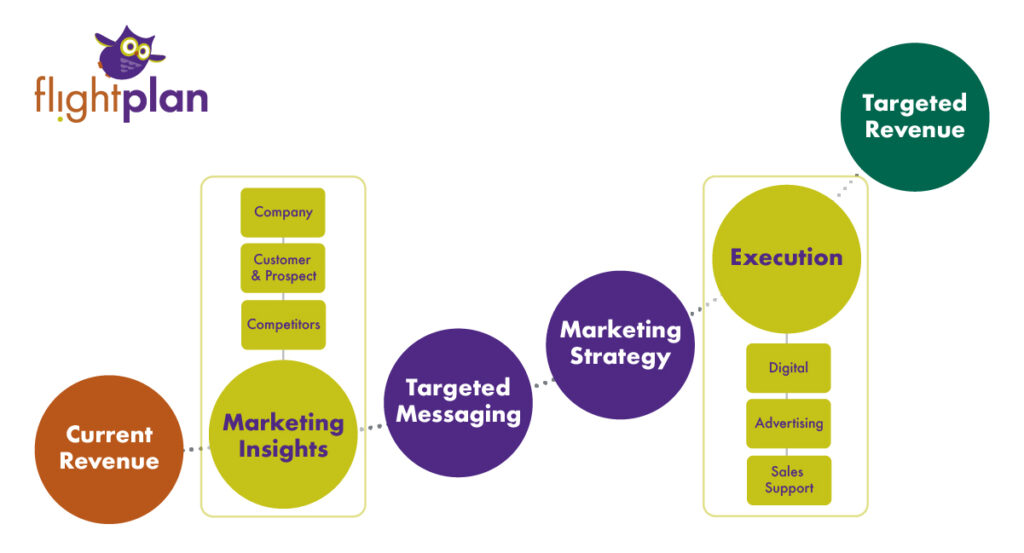 At Strother Communications Group, we help sellers reach buyers, boost reputations, and grow sales. Sales growth is our specialty. We will help you reach your revenue goals—whether doubling, tripling, or more—and reach them faster. But results don't happen out of the blue.
Over the last three decades, we've perfected a reliable pathway to success—our flight plan. This model is particularly helpful for companies seeking dramatic revenue growth. When all the steps are applied, it has never failed to produce exceptional results.
Step 1: Insights Reveal Opportunities
We get to know your company, customers, and competitors to understand the challenges you face and what your customers find most important. Our proprietary IPQ research locates the intersection of what's most important to your customers and where you perform best, revealing your biggest opportunities.
Step 2: Messaging Brings Focus
Targeted messaging helps businesses and consumers find you. We focus messaging on what's most important so your audience will discover you offer exactly what they are looking for. The messaging suite of 3-5 key points is anchored by a memorable positioning statement to bring clarity to the marketing strategy.
Step 3: Strategy Charts Your Course
Marketing strategy helps you assert your brand leadership where you perform best. As you build equity in your leadership position, this turns your marketing expense into an investment. It also defines how to connect with customers to match how they perceive their own needs. Do they buy your product or service to improve their own product? Do they see you offering the best performer in the category? Or instead, are they persuaded by how they feel when using your brand?
Step 4: Tactics Initiate Takeoff
Marketing tactics designed to work together around the messaging set the strategy in motion. But results do not happen overnight. We monitor metrics to see what's working best and look for any needed course corrections. Sometimes our biggest successes have followed small adjustments that have made a big difference. New customers start buying as we work alongside your sales team.
Our flight plan is tried and true. In-depth research combined with expertly crafted strategy and highly effective creative —all seamlessly executed—has produced exceptional results for our clients. And we can do it for you.
Contact us for a free consultation!