A shift in the type of products it manufactured followed by a period of explosive sales growth created a series of challenges for Wiscon Products Inc.
The Racine contract manufacturer, which produces complex CNC components for the hydraulic, aerospace, automotive and construction industries., has been in business since 1945 and is a third-generation family-owned operation with about 50 employees.
"We grew exponentially fast and were really struggling to manage going from a $2 million a year company to a $12 million a year company," Wiscon Products President and Chief Executive Officer Torben Christensen said. "We went from this commodity world to making highly engineered products and I realized how much more work goes into that."
Although growth is generally a positive outcome for companies, problems can arise in managing an unplanned rapid boost in orders and revenue.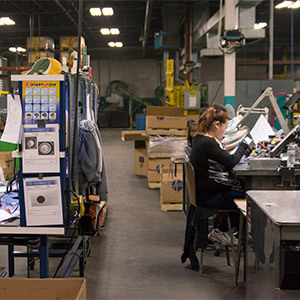 "We started to see issues with profitability, quality and employee engagement," Christensen said. "We were really flying by the seat of our pants, and it wasn't really working well."
At first, Christensen turned to business books to guide his decision making.
"I tried to implement some of those things on my own and it didn't really work as well as I would have liked," he said.
Wiscon Products eventually turned to WMEP Manufacturing Solutions, which it had worked with on several projects, including ISO/IATF certifications.
WMEP suggested its Transformational Productivity Initiative (TPI) model and tools for Wiscon Products to gain a holistic understanding of its situation and implement actions to increase productivity. The TPI model leverages an organizational assessment to create a targeted plan to help companies identify, prioritize and resource critical actions across management best practices, process improvements and digital technologies to improve productivity.
TPI is designed to help manufacturers systematically address productivity, poor financial performance, stagnating revenue, an unstable workforce, cyber-security concerns, and digital technology and automation adoption.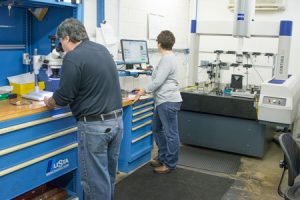 "This was a natural fit for us," Christensen said. "We had good rapport with the organization."
Involvement in TPI has had many benefits for Wiscon Products.
"We've experienced significant financial improvement as well as the ability to grow the company again," Christensen said. "We had gotten to the point where I was afraid to grow anymore. We were scorching the earth, as they say, and not necessarily making people happy."
TPI has transformed how Wiscon Products makes products, leading to improved productivity, Christensen said.
Through its partnership with WMEP and its involvement in TPI, Wiscon Products has put in place a strategic plan with objectives along with a scorecard using leading and lagging indicators that are reported out on a weekly basis.
"My management team has done a really good job," Christensen said. "The goals and objectives all flow and they just make sense. It's cohesive and makes for good meetings. It also makes for difficult conversations sometimes, but at the end of it everybody's on the same page."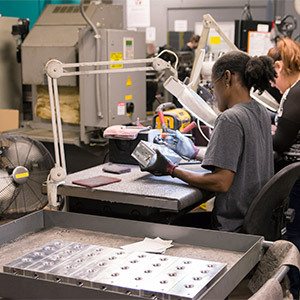 Launched in 2018, TPI's aim is help keep Wisconsin manufacturers competitive in a global landscape. TPI examines an organization across five key factors: Growth and innovation; technology; human capital management; enterprise excellence; and leadership and strategy.
The optimum goal of TPI is to increase productivity among individual companies and bring these improvements to scale to a point where the overall gains drive economic expansion throughout the entire state of Wisconsin.
"We wanted to help manufacturers address lagging productivity, a declining workforce, adoption of automation and digital technology, all while remaining competitive and thriving," said Carol Crawford, Service Line Leader for Transformation Services at WMEP Manufacturing Solutions.
TPI evolved out of a public-private partnership consisting of the Wisconsin Economic Development Corporation, the University of Wisconsin, Milwaukee 7, WMEP Manufacturing Solutions and the University of Wisconsin-Stout Manufacturing Outreach Center.
"We put together the best in diagnostic assessments and created a customized assessment tool to help manufacturers understand where they stand in best-in-class and other benchmarks in order to ultimately become more productive," Crawford said. "The assessment tool starts the TPI journey."
The TPI path for Wiscon Products has included a focus on leadership development, a systematic scorecard review process with leading and lagging key performance indicators, a Lean Manufacturing journey, and a five-year automation plan.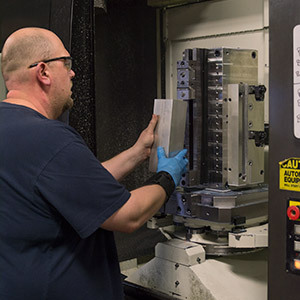 The company formed a Lean Steering Committee to drive change in the shop.
"It's not the management team pushing downwards anymore, it's the teams out on the shop floor pushing up to us with improvements and making suggestions to us," Christensen said. "It's a dramatic change from where we were two years ago."
The automation plan has led to the installation of three robots in the plant.
The results stemming from the TPI process and the corresponding productivity improvements have been significant. They Include:
A 93% increase in sales per employee over two years
An increase of more than 100% in value-added revenue
Monthly break-even reduced by 30%
Setup hours per week cut to 30 hours from 60 hours
A decline in scrap as a percentage of sales to 1.5 from 4.5
A variety of lessons have been learned from the TPI process, including an initial willingness to seek assistance, Christensen said.
"Reach out for outside help and be coachable," he said.
"A focus on leadership development is also essential," he added.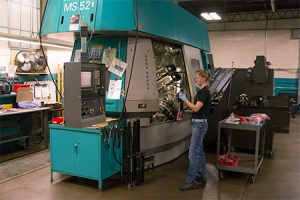 "We are developing leaders because we have room for exponential growth and we are in a really unique position to really grow the company, quickly but profitably, in a way in which we are supporting our customers and not scorching them," Christensen said.
The next steps in the journey include driving efficiency with automation and software and focusing on cutting-edge technology.
Developing a career training program is also essential.
"We want to have jobs where people are buying cars and houses," Christensen said. "We don't want to be a gateway for low-skilled employees. We want to upskill all our employees. We want this to be a career, not just a job."