By Chris Czarnik, CEO of Career Research Group, Award Winning International Speaker | Author | Business Trainer |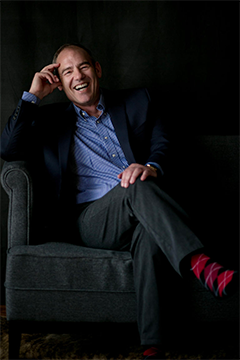 The intensifying struggles facing companies in their quest to recruit employees has been brewing for years, a mathematical certainty three decades in the making.
Much has been written about the shortage, but I feel like the person with ice water in the middle of the desert who knows how to fix it. But I can't get everyone to fix their recruitment problems because there simply aren't enough human beings to fill all the open jobs. So, it's imperative to make the appropriate moves now.
In partnering with WMEP Manufacturing Solutions, I've held more than 30 workshops over the past 90 days, just in Wisconsin alone. Outside of that, I've conducted numerous other sessions in states across the country. I'll likely spend 200 or more days on the road this year tackling this topic and using my book, Winning the War for Talent, as the basis for employment recruitment strategies.
The book, which I wrote over three years ago, has become a model for more than 3,000 organizations across the country.
What I've discovered is that there's nothing we search for more randomly in business than people. When we buy a shirt, a house, a car or even a pizza, we go through a process of definition, research and action. When we look for people though, many companies rely on woefully outdated methods. I see companies putting out big "now hiring" signs that looks like every other such sign.
In the past, HR people would constantly tell me that they were good recruiters of talent. I would fundamentally disagree. I don't think you can call yourself a good fisherman if the fish jump in the boat for you. Such was the case when companies had prospective employees clamoring for every job opening. That's no longer the case.
Every idea around recruiting has been how to act after 50 people or more apply for a job. But my works starts when you post a perfectly good job, with perfectly good benefits and perfectly good pay and nobody applies.
What do you do next?
What I'm teaching people is to build personas of their ideal candidates. Who needs your job as the next aspirational role in their life or professional career? It doesn't matter whether they are sweeping floors or looking to be a CFO. If you are in manufacturing, I teach people to do something that I call changing lanes. At the beginning of the COVID-19 pandemic there were 9.8 million people working in retail. By the end of this year, there will be only 6.5 million. So, do you think there is an untapped vein of experienced manufacturing people who are sitting on their couch waiting for you to call them even though there are now hiring signs everywhere? Not only can we train people to work in manufacturing, we should train people.
As somebody who has helped tens of thousands of job seekers, the way I learned how to do all of this is I spent 17 years with the fish. I taught pro-active job search to thousands of people across the country. I wrote a book Human Search Engine for Career Search: A Serious Jobseeker's Guide, which turns job search into a research project. That book was adopted by the 113th Congress as a model for job search across the country. I worked with 3,000 mid-career professionals on their job searches using that process. Then I served as the career services manager for the largest technical college in Wisconsin for a decade.
What I can tell you is that job seekers who are 18 to 25 years old are not in the job they want, they are in the job they could get. Remember, 95% of all the resumes that get sent out get no response. But some 19-year-old got up this morning and got on the back of a hot tar truck to seal driveways and parking lots working 25 hours a week at $13.50 an hour with no benefits. You think that person wants to be there? They just have no idea that their skills transfer to manufacturing because the manufacturing companies for the last 30 years told them that they didn't fit because their education and experience didn't match the job requirements.
What I have people do is survey their current employees. There is no magic here. You survey your current best employees, and you ask them what job they had before they came into manufacturing. Then our job ad isn't going to state that there's an entry level manufacturing job opening. It's going to say that our last five great employees came from baking, groundskeeping, small engine repair and a body shop. Are you next?
After years of telling people not to changes lanes, we'd love it if they'd change lanes.
Employers are getting frustrated with job seekers ghosting them, but they have been ghosting job seekers for a long time. You didn't get back to them, you didn't let them know that they didn't get the job. You didn't tell them who got the job. You didn't tell them what skills and abilities they didn't have. You didn't tell them about other opportunities in the company. Manufacturers started this. But now, they are stressed out because people are not lining up for open jobs.
You can turn your entire staff into a recruiting firm. These are people who have already decided that your company is a great place to work. It's not rational to think that they don't think it's a great place to work and it's not rational to think that they don't know anybody whose life would get better if they came to work there. So, why aren't they doing it? Because the emotional risk that that referral puts at risk a friendship or a family relationship.
I've found that you can't overcome an emotional risk with a financial reward. Use vacation as the reward instead. Offer a week of vacation for every successful referral that shows up on the job for 90 days. And it's key to get the employee's spouse and family involved in the referral process.
The referral program is essential and so is the need to change our advertising. We need to take something that people think they know about your organization, especially the misconception that manufacturing is dark, dirty or dangerous, and turn it on its head. Have your ad say that you have the cleanest manufacturing plant you've never seen.
Once you land quality employees, keeping them becomes imperative. Understand that the millennial generation will change companies every three years or so. We have 19 years of millennials in the workforce. They aren't a mystery anymore. When millennials stop learning they start leaving. As long as they keep learning, they stay. Baby boomers were raised on security. Millennials were raised on growth and change.
Chris Czarnik is CEO of Career Research Group in Appleton and is a strategic partner of WMEP Manufacturing Solutions. He is author of "Winning the War for Talent."
Contact us for a free consultation!