By: Katie Rapp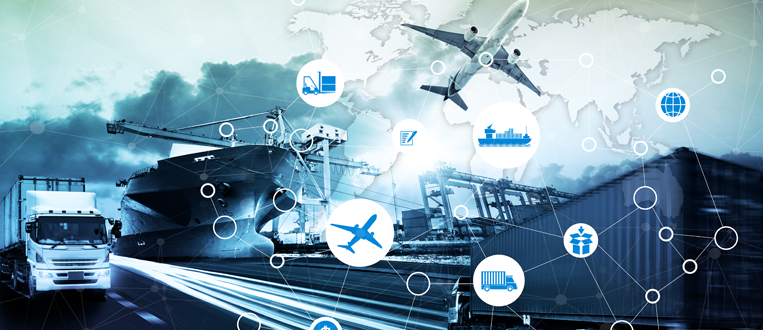 The COVID-19 pandemic brought to light a stark reality about current supply chains. As Nissan Motor Co.'s Chief Operating Officer Ashwani Gupta points out, "The just-in-time model is designed for supply-chain efficiencies and economies of scale. The repercussions of an unprecedented crisis like COVID highlight the fragility of our supply-chain model." The U.S. supply chain has so far struggled to adapt and restock pandemic-depleted inventories. There are industrywide shortages and a lag in how many manufacturers are responding.
In their recent MEP National Network™/Modern Machine Shop webinar "How Smaller Manufacturers Can Develop Risk Management Strategies for Their Supply Chains," Gary Steinberg of California Manufacturing Technology Consulting (CMTC, the California MEP Center) and Chris Scafario from the Delaware Valley Industrial Resource Center (DVIRC, part of the Pennsylvania MEP) shared strategies for identifying and mitigating supply chain risks, especially aimed at small and medium-sized manufacturers (SMMs).
Risk Drivers
Supply chains often represent a company's highest costs. Identifying risks to your supply chain can help you respond rapidly and confidently to future supply chain disruptions. Common supply chain risk drivers involve disruptions, delays, inaccurate forecasting and procurement issues. Obviously, we all know now that a pandemic poses a major risk to supply chains, but other disruptions include natural disasters and labor disputes. Raw material delays, lack of capacity at a supplier, poor quality, transportation capacity – these all create bottlenecks. Inaccurate forecasting, short product life cycles, one-time events or sales promotions, and seasonality can wreak havoc on getting products out the door. From the procurement side, beware of key components obtained from a single source, industrywide shortages and long-term versus short-term contracts.
Common Mistakes
Your supply chain is only as strong as its weakest link. Relying on single source suppliers is a common misstep for smaller manufacturers. It's natural to build relationships, but having too many eggs in one basket is a huge risk. Silos within your organization – your procurement disconnected from sales, operations, customer service and R&D teams – is another huge problem for your supply chain. A simple change in daily routines can resolve these disconnects. Finally, the truth is that many SMMs don't have experience forecasting inventories. Their response to the current supply chain issue is to buy as much as possible and hope they won't run out. This creates setbacks while undoing years of continuous improvement initiatives. Storing three years' worth of grease leaves a small firm with a limited ability to operate efficiently.
In summary, here are some common supply chain mistakes for SMMs:
Single source supply for high-runner parts or materials.
No linkage between procurement and sales forecasting.
No partnership with key customers and suppliers to convert supply chain model from make-to-order to make-to-stock where it's logical.
Handshake relationships with suppliers with no formal long-term commitments.
No formal order points, triggers or defined inventory targets.
Building a Resilient Supply Chain
The goal of the supply chain is to deliver products to customers on time and at the lowest cost possible. It is a closed-loop process involving many interdependent disciplines – strategic planning, inventory management, vender management, operations, distribution and logistics, and customer experience. Here are a number of things that will help you build a strong and resilient supply chain.
Strategy: First you need to ensure your supply chain strategy aligns with your company's business strategy. Sales, inventory and operations planning (SIOP) is a process that requires all departments – sales, finance, operations, scheduling and production – to lay out demand and supply plans throughout the year. Talk about demand and supply at your monthly SIOP meetings and make sure they match your company's financial objectives. Decide strategically if you will outsource manufacturing, vertically integrate, or whether you will have in-house manufacturing. Map out a factory and warehouse network that considers the proximity to supplies of raw materials and customers to minimize freight costs. Finally, determine the flow and quantity of goods in the supply chain network.
Raw material supply: Take a stratified approach looking at the critical value of parts. Classify them A for critical or custom parts, B for standard parts, and C for commodities. Vet all sources, negotiate contracts and schedule deliveries. Routinely measure and assess supplier performance and give your suppliers feedback based on these metrics. Actively participate in vendor management – get to know your suppliers. It's a closed loop, and you're on a continuous improvement wheel all the time with your supply chain. Managing your company's assets and inventory is another key part of developing your raw material supply.
Produce and deliver products: Develop a robust method to schedule production activities using materials requirements planning and SIOP. Manage performance metrics and scorecards for effectiveness. It's important that what you have physically in inventory matches what your system says, so manage your warehouse and inventory accurately and efficiently. Without that, it's difficult to plan accurately. A key for good customer experience is how quickly you process and invoice customer orders. Lastly, select the best distribution strategy and freight options based on your customer and business needs.
Redundancy: Consider if your company can afford to fund a second tool for custom parts. Look at splitting the order between two sources for standard, high-volume parts. For commodities, develop a network of like distributors that you can deploy quickly to resolve availability issues.
Supply Chain Planning
The actions that you take now not only help with today's supply chain disruptions but lay the foundation for dealing with future disruptions. To be proactive, you must dedicate resources to work on strategic supply chain projects, to use tools and metrics to identify supply chain risks, and to work as a team to mitigate risks. Here are some key actions to consider:

Leverage data to improve visibility: Maximize visibility into demand, inventory, capacity, supply chain costs and customer experience across the company to recognize where you have risks.
Build a sales, finance and production SWAT team: Mobilize a dedicated team that seeks to understand the risks and discusses actions that can be taken.
Evaluate supply chain scenarios: Run simulations to predict when and where excesses and shortages are likely to occur. Run end-to-end scenarios to get actionable insights that will optimize operational metrics.
Develop contingency plans: Based on the various end-to-end supply chain scenarios, execute and implement the models developed to reduce the risks and pain points in your supply chain.
Measure the impact of changes: Metrics are the key – keep a close eye on inventory, capacity, supply chain costs and customer experience.
WMEP Manufacturing Solutions, Wisconsin's Local MEP Center Can Help
The COVID-19 pandemic has disrupted supply chains nationwide. While the pandemic was unexpected, disruptions are a fact of life. Firms that put time and effort into reducing supply chain risks now will be able to weather future disruptions more easily. WMEP Manufacturing Solutions should be your first call. They have solutions that are right-sized to meet the needs and capabilities of SMMs.
WMEP experts have tools so you can collect the right metrics to understand your supply chain. They can open doors for you and make introductions so you can establish new relationships. The MEP National Network Supplier Scouting service connects SMMs from across the country free of charge. Through it, WMEP Manufacturing Solutions can submit a nationwide request that goes out to all 51 MEP Centers and can be seen by the MEP National Network's manufacturing experts, all of whom are happy to share knowledge and resources. Let the MEP National Network help your company develop a more resilient supply chain.
MEP National Network and Supply Chain
ABOUT THE AUTHOR

Katie Rapp is a writer/editor for NIST's Manufacturing Extension Partnership where she helps NIST MEP staff use plain language so their readers can understand what they write the first time they read…
Contact us for a free consultation!