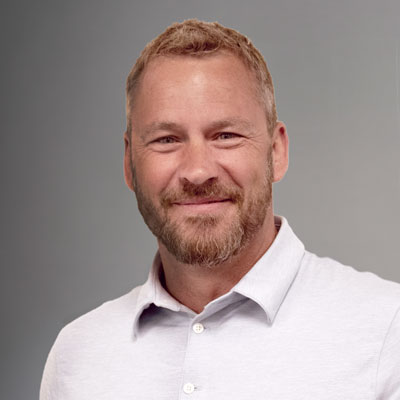 WMEP is pleased to announce that Jason Schultz has joined our team as one of the business development leaders for the greater Milwaukee metro area, specifically focused north of highway 60 up to Manitowoc County and west to Fond du lac. In this role, Jason will prospect new clients, follow up on leads and set the stage for what WMEP does best: Help Wisconsin manufacturers grow and succeed. Here are just a few reasons why Jason will be such a valuable asset to the WMEP team and businesses across the state.
When it comes to listening, he believes in the 80/20 rule.
Growing up with a father who always told him, "There's a reason we have two ears and one mouth," Jason's commitment to listening 80% of the time while talking just 20% has paid big dividends for him and for his clients. "Jason's commitment to listening is a game changer," said Director of Business Development Mark Hatzenbeller. "He doesn't jump in and make assumptions about a client's problems—he asks the probing, clarifying questions that uncover their most pressing challenges and listens to what they have to say. And that's the critical first step toward solving those challenges."
He leverages the power of data-based decision-making.
Although instinct certainly has its place in the business world, there's increasing evidence to suggest that decisions made through data analysis are often more successful than those based purely on emotion. "It's all about gathering the facts and looking for ways to increase efficiencies, simplify processes and improve how a company operates," said Jason. "The WMEP team is committed to supporting clients on their journey to being more competitive and profitable. We take the time to gather and understand what the data are telling us and that's been critical to our clients' success."
He brings a wealth of hands-on experience to the role.
Jason has spent much of his career in business development roles, most recently for Server Products, a Richfield, Wisconsin-based company that provides solutions for leading food service chain operators of all sizes, from mom-and-pop stores to multinationals. But his success in those roles was shaped by previous jobs, including his first post-college position as an estimator for a building contractor. "Jason has the credibility that comes from firsthand experience and building relationships with people in a wide variety of roles," said Mark. "He knows what it's like to estimate and manage projects and what it takes to build and sell something. He's been in our manufacturing partners' shoes."
He loves the transformational process that happens with good coaching.
After years coaching his sons' basketball, football and baseball teams, Jason has a keen appreciation for the transformative power of good coaching. "I love the process that happens from the beginning of a season to the end—watching the kids learn and grow and flourish," said Jason. "I see the same thing professionally. How the combination of the right expertise, time and support lets us achieve similar transformations with Wisconsin manufacturers."
He joined WMEP because of its culture of giving back.
During his interview process, Jason had an in-depth conversation with the WMEP leadership team, including CEO Chris Baichoo. "We really dove into the culture of WMEP," said Jason. "It became clear that being part of WMEP means giving back and making a difference. There's a real sense that people join the organization because they want to help others succeed and they want to do something positive for their community. I love that shared purpose, and I'm excited to be part of it."
When he's not helping Wisconsin manufacturers take the next step on their transformation journey, you'll often find Jason enjoying some aspect of sports—coaching, playing softball or golf or just watching as a fan. He also loves grilling out, time with his family and the joy of a great book.
Contact us for a free consultation!