Most (86%) Wisconsin manufacturers remain confident about their own financial outlook, despite half (50%) believing that the state's economy is slowing down or in a recession, according to the newly released 2022 Wisconsin Manufacturing Report™.
The 2022 Wisconsin Manufacturing Report™ was developed from interviews with 400 Wisconsin manufacturers and five follow-up focus groups in July, August and September. It is a comprehensive, annual report that gauges Wisconsin manufacturing executives' perceptions of the state of their business, their outlook on manufacturing and identifies and explores key issues impacting their business and employees. National polling company, Meeting Street Insights conducted the interviews and focus groups.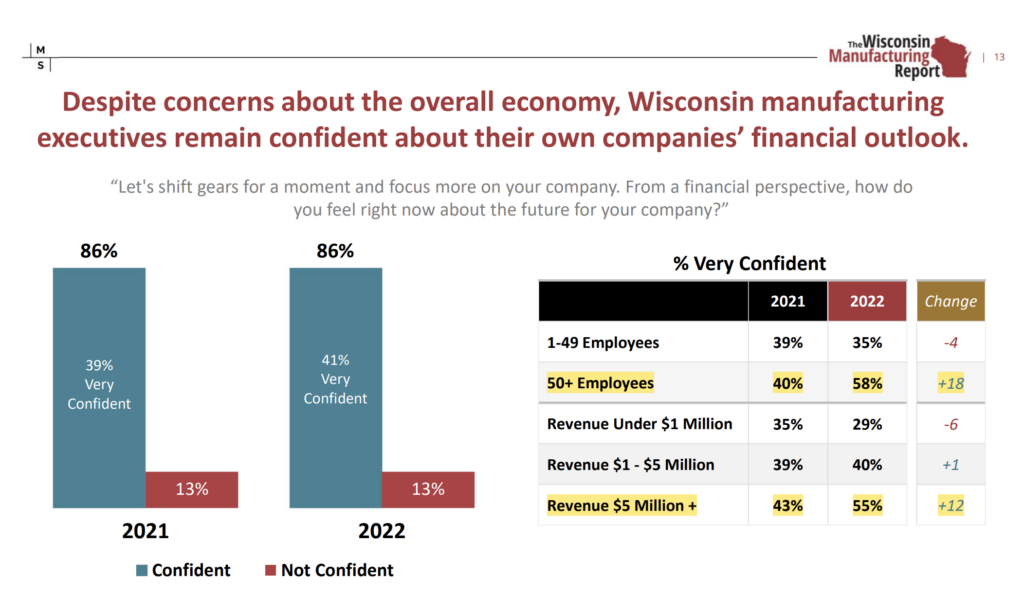 The study was commissioned by the Wisconsin Center for Manufacturing and Productivity (WCMP) in collaboration with WMEP Manufacturing Solutions (WMEP) and the University of Wisconsin-Stout Manufacturing Outreach Center (MOC). First Business Bank (FBB) was the lead sponsor of this year's report.
Overall manufacturers' top concerns, the availability and cost of materials, and attracting and keeping qualified employees, are similar to 2021 findings.
Significant changes in the importance of energy costs (76% increase over last year) and overall inflation (20% increase over last year) marked the biggest year over year changes in top concerns.
However, there are differences in the top concerns of larger companies and smaller companies.
Smaller companies, those with 50 or fewer employees, top concerns are cost of materials (75%), overall inflation (69%), and supply of materials (69%).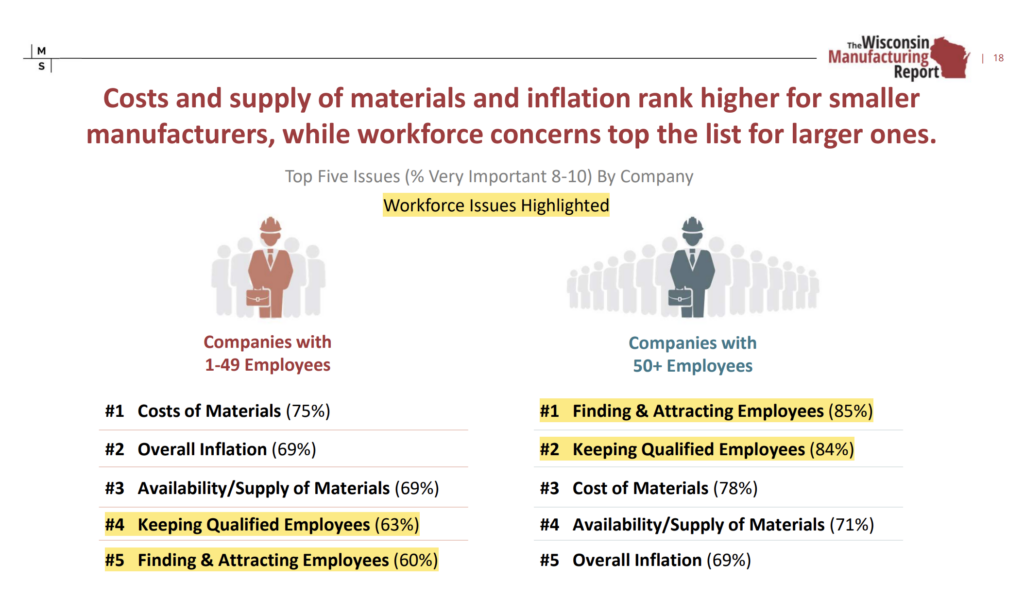 While larger companies are also concerned about those issues, attracting and keeping employees (85%) still tops their list and 85% indicate that it is very difficult to attract workers for open positions.
Regarding manufacturers plans for investments, the top two areas for investment, growing revenue and profitability (73%), and maximizing productivity (69%), remain largely the same, but significantly more manufacturers (48%) are planning investments in systems, technology, and automation this year.
Download and share the 2022 Wisconsin Manufacturing Report.
Read-Out Events
Please stay tuned for details about the upcoming 2022 Wisconsin Manufacturing Report™ video along with additional in-depth analysis from the experts at WMEP Manufacturing Solutions.
Report Sponsors
The annual Wisconsin Manufacturing Report™ is sponsored by First Business Bank.
Contact us for a free consultation!