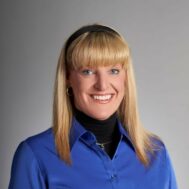 Senior Events Planner
920.915.2582 | [email protected]
Tammy brings 11 years of experience in event planning, customer service, sales and marketing to the WMEP organization. Previously, she worked for the renowned Bergstrom Hotels, where she held the positions of Regional Account Manager and Director of Catering. Prior to Bergstrom Hotels, she has been an Account Executive for CenturyTel/Verizon Wireless, and possesses an extensive knowledge of Fox Valley Area businesses.
Tammy has been with WMEP since October 2001 and in this time has supported the operations of WMEP in varying capacities such as planning and maintaining statewide training schedules, managing inventory of materials, internal and external meeting planning and execution, product development, providing operation support to the Manufacturing Specialist field, NIST Survey administration and marketing support while overseeing the Appleton office.
Tammy is a lifelong residence of the Fox Cities residing in Neenah . She is the proud Grandma of six grandchildren and two lovely daughters. In her spare time, she enjoys spending time with her grandkids, refurbishing and bringing new life into old outdoor garden pieces, and volunteering for benefits. She stays active in the summer by playing in her flower gardens, golfing and biking – especially the new Neenah Loop the Lake Trail.