By Mark McDermid, Sustainability Consultant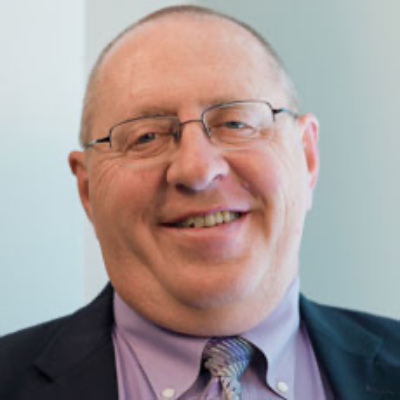 Mark Twain once quipped "The reports of my death have been greatly exaggerated". Similarly, reports of the demise of sustainability are also quite exaggerated. Sustainability-driven innovation may be a key to both the recovery and resiliency of many businesses as well as growth and competitive prowess. Consider that 62% of executives consider a sustainability strategy necessary to be competitive today, and another 22% think it will be in the future. In 2020 Corporate Knights reported that the 100 Most Sustainable Companies increased their stock price 26% compared to 16% for their benchmark.
Sustainability means something in a talent-constrained marketplace as a recent Salesforce survey reported 75% of employee respondents from companies with 250 or less employees say corporate sustainability is a moral imperative. Conversations with SME's, large businesses, and academic sources affirm that specific strategies move organizations from sustainable practice to sustainability driven innovation. Forty percent of Millennials have chosen a position because of better sustainability at a company (only 17% of Boomers) and 70% of Millennials say they will stay long-term where there is a strong sustainability plan 2020 State of Green Business.

Sustainability driven innovation doesn't have a solid, generally accepted definition but sustainability driven innovation certainly isn't new. Arthur D. Little developed a concise and insightful definition back in 2004 as "the creation of new market space, products and services or processes driven by social, environmental or sustainability issues.(Research Gate Article 2019)" Research and published articles on the nexus between sustainability and innovation have increased to 436 436 peer-reviewed articles in the past 10 years but there is also published material back in the mid-late 1970's. One key distinction is that sustainability driven innovation is different from the resistant, reactive, anticipatory approaches to sustainability in some businesses and more closely akin to the innovation-based and sustainability-rooted approaches in other businesses (Journal of Cleaner Production – February 2015). The Journal also provides a working definition of sustainability-oriented innovation: "a 'direction', which to follow requires the deliberate management of economic, social, and ecological aspects (Hansen et al., 2009; Paech, 2007) so that they become integrated into the design of new products, processes, and organizational structures (Rennings, 2000).
Importantly, this is not an academic exercise. Communities and businesses are making the changes to executive direction, organizational change, and enhanced collaboration that have been identified as key attributes of Sustainability-Driven Innovation by MIT Sloan, Boston Consulting Group, Deloitte, and McKinsey just to name a few. Patrick Cain, Plant Manager at General Plastics, observed that the strong connection between sustainability and innovation comes from the integration of sustainability in strategic planning, capital planning (including a checklist), employee development, new market development, and, most importantly, robust customer collaboration on processes and materials and applied technologies.
At UW Green Bay, John Arendt, Director of the Environmental Management & Business Institute (EMBI) & The Office of Sustainability, observed that the linkage of sustainability and innovation is also dependent upon collaboration. Arendt cited the Brown County initiative exploring Smart Cities technologies as a component to attract and retain the skilled and younger workforce attuned to the entrepreneurial drive and armed with the collaborative networking skills fundamentally important to sustainability-driven innovation.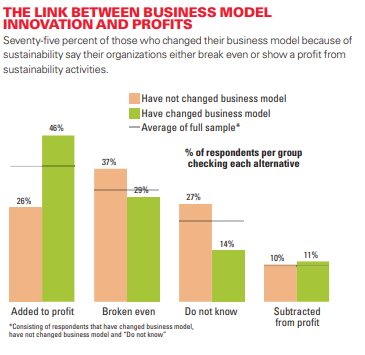 Getting beyond incremental economic gains with sustainability is a matter of strategic organizational change. MIT Sloan Management Review (2013) notes, "When both sustainability-oriented collaboration and business model change occur, the combination is strongly correlated with sustainability-based profits." "The Benefits of Sustainability-Driven Innovation" – MIT Sloan Management School-Winter 2013) The article, as well as others on the same topic, goes on to cite three key factors to achieve the effective union of sustainability and innovation:
Be prepared to change your business model.
Understand how your customers think about sustainability — and what they are willing to pay for in connection with sustainable products or services.
Collaborate more with individuals, customers, businesses, and groups beyond the boundaries of your organization.
Patrick Cain speaks eloquently about not only the change in the business model but also about the level and type of collaboration that is a foundation for decision-making and operations, systematically driving innovation. Businesses can also ask if they have the right people and the right frame of mind. Based on the creativity, energy, and skills of his students, John Arendt said, "key competencies that I would search for are a desire to lead people and network and really a passion to make this one planet a better place. Sustainability and innovation will follow." Organizational change and collaboration core competencies are crucial to sustainability-driven innovation.
There is some evidence to suggest that SME's may be more effective with strategies somewhat different from large businesses. Sustainability Oriented Innovation in SME's identified five transition strategies to accomplish sustainability-oriented innovation:
remodel their innovation process to interact more frequently with external actors, continuous activation through external factors
different modes of interaction can affect the strategic sustainability behavior and subsequently the Sustainability Oriented Innovation (SOI) practices of SMEs
anticipatory mindset, exercises, and tools to facilitate long-term impact
rapid, adaptive systems performance for responsive, resilient tactical action (make necessity the mother of invention and never waste a crisis)
make the shift from eco – to sustainability-oriented innovation
Not that Patrick was guided by the study data, but our conversation affirmed the five bullets for SME's as fundamentally important to their sustainability driven innovation.
Johnson Controls provides great examples of ways that sustainability driven innovation can manifest itself in a company and insights into why sustainability-driven innovation happens. Recently, Jenna Kunde, Director of Sustainability for Johnson Controls (JCI), shared some of the key elements of their business model and approach. Here is a high-level view that cannot begin to cover the range and depth of their sustainability-driven innovation. Their communication is clear, comes from the top, and is integrated with strategic business decision making. Strategic direction is communicated in six words – Health People, Healthy Places, Health Planet. Jenna points out that "everyone [emphasis added] has their innovation wedge" which is the point of employee contribution to sustainability driven innovation in process, product, and engagement. While JCI continues to develop innovative products, sustainability-driven innovation now includes engagement with customers to help them reach their sustainability objectives. Committing to "Net Zero" is one thing. Getting to "Net Zero" means building partnerships with sustainability-driven innovators. What better than a company with an executive dedicated to innovation and a corporate commitment to 75% of R&D dedicated to sustainability. The company also has the infrastructure and business model framed around sustainability-driven innovation. For example, they just launched their 2021 Virtual Tech Challenge which encourages and rewards employees' innovative sustainability solutions and they have sustainability-focused innovation centers around the world including a new one in Singapore's first new-build net-zero energy building. What started as a largely internally focused pursuit of sustainable practice has transformed into holistic sustainability-driven innovation with 49% of products recognized as sustainable (based on Corporate Knights methodology) and future growth strategically linked to sustainability.
In 2018 MIT Sloan provided five key steps for "Driving Sustainability-Oriented Innovation", in many respects the next installment on the research publish in 2013 (cited above). While there isn't space to go into those steps in depth, below is a brief distillation of them:
Clear direction linking sustainability to strategic business direction with managers as guides and facilitators
Clearly allocated time and resources to accomplish the item above
"Room for Collaboration" broadly defined and inclusive collaboration
"Positive reinforcement" for getting involved and letting everyone know you need their help
Accountability that establishes social and environmental value creation as a priority
The reason for the five elements goes back to the work done by MIT Sloan back in 2013 "When both sustainability-oriented collaboration and business model change occur, the combination is strongly correlated with sustainability-based profits." (MIT Sloan Management Review – "The Benefits of Sustainability-Driven Innovation" – Winter 2013).
There is so much more that I would like to include. Space is short but the message is simple – sustainability-driven innovation can be accomplished and profitable when it is. Just look at "The Most Innovative Sustainability Projects of 2020." (Fast Company Article)
Contact us for a free consultation!