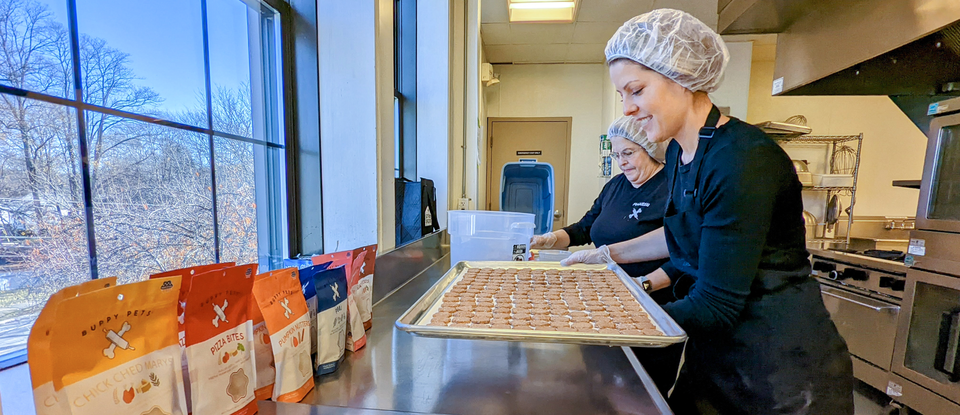 Hope & Main, a Rhode Island culinary business incubator, helps make dreams reality for people who want to start or own a food or beverage business. One of the top 10 food incubators in the country, Hope & Main has launched nearly 300 businesses since 2014, making it possible for these firms to have a business and creating a more diverse food economy in the state.
It takes a village
Hope & Main works with Polaris MEP (Rhode Island MEP) and other organizations to make this happen. "The hero of this story is actually a trio of partners," said Matt Watson, Polaris MEP Center Director. "It reflects the unique way Rhode Island helps its food and beverage businesses succeed, with private and public partners all working together to lift up manufacturers." A new video in the Heroes of American Manufacturing series features Hope & Main, Polaris MEP, and BUPPY PETS, an entrepreneur in the incubator program at Hope & Main.
Not only does Hope & Main provide affordable access to expensive infrastructure, it also provides technical business assistance. Polaris MEP plays a critical role, with the tools and expertise to help small companies find success. According to Nathan Bonds, Project Manager/Manufacturing Advisor at Polaris MEP, "The relationship between Polaris and Hope & Main is to partner with the manufacturers to help them with their topline, their bottom line, and their pipeline."
Ongoing support and encouragement
Hope & Main President and Founder Lisa Raiola explains that its support runs deep: "We don't just say 'here's a key, there's a kitchen.' We want you to learn about all the aspects of running a food business – scaling your recipe, packaging and labeling, sales, and distribution." The aim is to help "food-preneurs" along their entire journey as they move from recipe, to product, to brand, to business.
Without this support, many small companies might never get off the ground. BUPPY PETS Owner Lauren Ruggiero doesn't think her company, which makes healthy dog treats, would be where it is without Hope & Main and Polaris MEP's resources. The partnership has enabled her to reduce costs and increase productivity. "To have the space and feel welcome and feel that I wasn't alone was such a game changer," said Ruggiero.
Diversity and sustainability
Women-owned businesses like BUPPY PETS find a home at Hope & Main – 60% of its makers are women, and 40% are people of color. Hope & Main's mission is to empower an inclusive community of entrepreneurs and to jumpstart and cultivate thriving food businesses that are the foundation of a more just, sustainable and resilient local food economy.
According to Nathan Bonds, Hope & Main "has created a sustainable food manufacturing ecosystem in the state of Rhode Island – to be able to have an atmosphere to dream and actually be able to do your dream."
Heroes of American Manufacturing Video Series
The Heroes of American Manufacturing video series attempts to capture the hearts and minds of the public and celebrate the small and medium-sized manufacturers succeeding in the U.S. with the help of their local MEP Centers, like WMEP Manufacturing Solutions. We want to shine a spotlight on what's happening in plants across the country, the leaders and workers who are making things that improve our daily life, and the jobs and contributions these manufacturers provide their communities and the nation's economy. Heroes videos also showcase the relationship between the MEP Center and client manufacturer – helping to tell the story of the MEP National Network™, a unique public-private partnership that includes MEP Centers in every state and Puerto Rico. With over 1,450 trusted advisors and experts at approximately 430 MEP service locations, the Network can provide any U.S. manufacturer with access to resources it needs to succeed. The MEP National Network can help your company become a hero of American manufacturing!
Food Industry and MEP National Network
ABOUT THE AUTHOR

Katie Rapp is a writer/editor for NIST's Manufacturing Extension Partnership where she helps NIST MEP staff use plain language so their readers can understand what they write the first time they read…
Contact us for a free consultation!