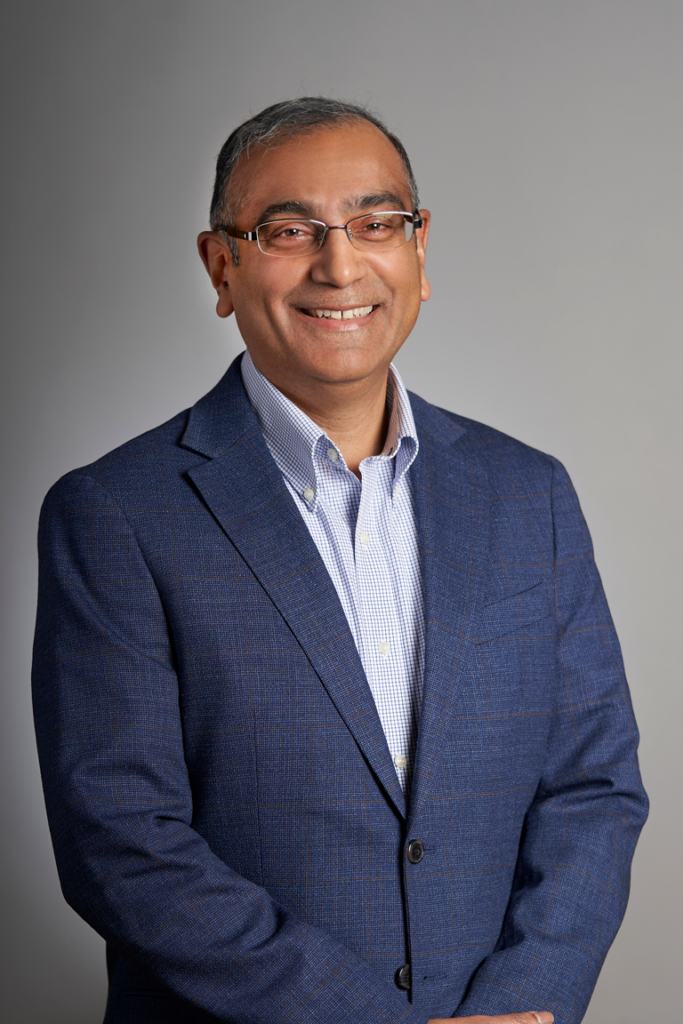 Read through Chris Baichoo's profile, and you'll find the impressive credentials and skillset you'd expect to see from someone who's just been selected as WEMP's CEO/executive director. For instance, he's opened global markets for manufacturers in the US, Canada and Asia. He has a reputation for problem solving in manufacturing—and even holds a patent for one of his fixes. And the companies where he's overseen product development and sales, have an impressive track record of growth.
While those credentials and skills were certainly a big part of WMEP's board selection of Chris, there are several additional reasons he was viewed as the ideal candidate for this role, including:
He's a firm believer in the power of doing more with less
Chris spent most of his younger years living in Guyana, South America growing up in a "culture of scarcity" where doing more with less was simply a necessity. He remembers using scrap building materials he'd painted black to do his math problems on when he ran out of paper, finding his mom's old bike in a shed and refurbishing it for his own use, and making his bed using hand tools.
"Those experiences gave me a problem-solving mentality and helped me think beyond typical solutions," shared Chris.
He has a profound respect for and appreciation of hands-on labor
Chris came to the U.S. at the age of 19 with a dream of becoming an engineer. To finance his dream, he paid his way through school refurbishing cars and working as a sheet metal operator.
The time Chris spent refurbishing cars and on the factory floor not only paid his bills, it also gave him a keen appreciation for the critical role labor plays. "Leadership benefits from being inclusive and getting feedback from the entire team," stressed Chris. "It isn't enough to engage someone's hands, you must engage and harness their hearts and minds as well. Otherwise, you're wasting a vast source of talent."
To leverage the strengths of every employee, Chris believes employers should fully engage teams in their continuous improvement journey, both in the office and on the manufacturing floor.
He believes crisis can drive creativity and innovation
While few of us would actively seek out crisis as a management strategy, Chris knows good things can result from it. "I've experienced this throughout my career in manufacturing and I've especially seen it the last few years because of COVID," said Chris. "I find it inherently exciting to help a business fix its problems."
From his many years doing just that, Chris knows that success in challenging times requires a sound business strategy, a methodical continuous improvement process, employee engagement, and agility. "The solution is typically to improve flow in the entire value stream from marketing to cash collection and engaging the entire team to optimize that flow."
Questions that can help address a crisis include: Are we focusing on the right customers and segments that are profitable—and how are we supporting them? What are we doing to ensure we're providing the best value and offering the right product mix? How are we developing people and are we using the right mix of cross training to ensure our production capabilities are flexible? Are we focusing everyone in the organization to help improve the business every day?
"Those questions are especially critical as Wisconsin manufacturers continue to weather times of economic uncertainty," said Chris.
His entire career has focused on growing small- to medium-sized businesses, both in the U.S. and overseas
Over the course of his career, Chris has focused on supporting single-site operations with between $1M and $150M in revenue. Most shared the same core problem: the need to grow in a scalable profitable manner, so they could create a virtuous circle of more jobs, expanded operations and investments in additional equipment.
Chris's experience includes assignments outside of U.S. where his responsibilities included: overseeing the performance of sales offices in India, Singapore, Malaysia, Australia, Taiwan, China, Korea and Japan; initiating sales in the Middle East; and helping to direct the go-to-market strategy for a start-up in Toronto.
"WMEP already has an exceptional export program (ExporTech™) in place that's been instrumental in helping Wisconsin manufacturing grow," said Chris. "I believe we can continue to optimize these efforts by bringing new insights into the perceptions and needs of end users globally."
Chris stressed the importance of understanding a company's value proposition and where products will play best and efficiently matching companies to end users in international markets.
He's experienced the benefits of the MEP program for himself
In the aftermath of 9/11, Chris was the general manager of the Illinois plant for Watlow Electric, a family-owned manufacturer of industrial and commercial heaters, sensors, electronic controls and power switch devices with an international client base. During this incredibly challenging time, the company had to drastically reduce head count, slash product lead times and cut costs. To achieve those goals Chris partnered with the Illinois office of the MEP program (the MEP National NetworkÔ is a public-private partnership with centers in all 50 states and Puerto Rico). Thanks to that support, Watlow did a Lean conversion at the Illinois site, adopted continuous business improvements and was able to secure a game-changing $7M contract with an OEM supplying Wendy's restaurants—changes that allowed Watlow to keep the doors open in a time of crisis.
He believes the coming years will be an exciting time for U.S. manufacturing and wants to "pay it forward"
Chris often reflects on the opportunities he's had since coming to the U.S., especially the people and organizations that touched his life and helped him get where he is today. "I really consider myself fortunate," said Chris. "When I heard about this job I thought, 'Here's a way to take everything I've learned and help many businesses.' I relish other peoples' success, and this is a way for me to help others thrive."
He believes his timing couldn't be better. "I think we're on the cusp of growing U.S. manufacturing significantly over the next three to five years," Chris said. "After all the unease around losing US manufacturing jobs over the last 20 years, it's exciting so see this resurgence. If we can create good quality jobs, it will create a better environment for us and for our kids going forward. It is a very exciting time. WMEP is committed to supporting Wisconsin manufacturers efforts to succeed and grow and I can't wait to get started."
Contact us for a free consultation!