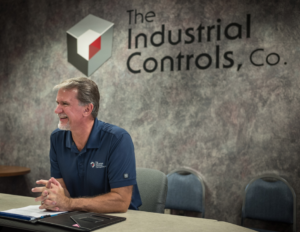 Creating a more productive work environment has been the foundation of a partnership between The Industrial Controls Company Inc. and the Wisconsin Manufacturing Extension Partnership that took root over 18 years ago.
The list of projects directed by the WMEP at ICC is extensive and includes production cell layout, production time studies, problem solving techniques, steering team development, metrics development, introduction to lean manufacturing, the creation of a marketing program and more, according Don Lavrenz, the company's president.
"I also use our WMEP representative as a sounding board when I have questions or ideas regarding the business," Lavrenz said.
ICC's line of business includes systems integration, along with the design, building, testing and certifying of industrial control panels.
"We can serve any market that uses industrial control panels, including material handling, water and waste water, machine tool, air handling and cleaning, and many niche areas within manufacturing and process control," Lavrenz said.
ICC, which counts more than 100 active customers, operates production facilities in the Waukesha County community of Sussex and Downers Grove, Illinois.
The company has 42 employees overall, including 26 on the factory floor.
The roots of the business date back to 1982. ICC was born out of a merger between LAS Automation, an engineering firm, and Tenric, a control panel manufacturer. The combined company became known as Absolute Automation Inc. In 2010, it took the name The Industrial Controls Company Inc. to better represent its strengths and enhance marketing efforts. The company later acquired Control Masters Inc. in Downers Grove.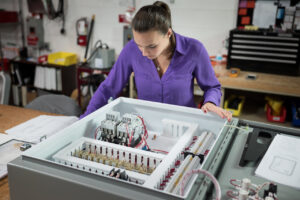 To its credit, ICC is constantly looking to improve its operations, said Jim Fackelman, a senior manufacturing specialist at the WMEP.
"The company has always bought into what we are doing," Fackelman said. "It's a place where they like to try things themselves at first. They recognize when they need help and then we show them what they need to do. They've jumped on it and seen some significant improvement."
The projects also have had a positive impact on the company's bottom line, Fackelman said.
"There seems to have been some pretty nice opportunities for the company to do well profit-wise," he said.
Capital spending by its customers is one of the main drivers of business for ICC.
"That's based on the level of confidence manufacturers have in the economy," Lavrenz said. "Since this was an election year, a lot of capital spending seems to have been on hold. Also, oil prices have been low and the dollar has been strong which, when combined, cause a slowdown across the board."
The combination of factors has had an effect on business for ICC.
"We're seeing a little downturn after nearly a decade of year-over-year healthy growth," Lavrenz said. "What's interesting is we have been seeing a normal amount of quoting activity, but some capital spending seems to have been pushed into 2017. Fortunately, we've been able to backfill with quite a few new customers this year and made a significant push in branding the company."
All of which makes it important for ICC to continue to focus on continuously improving its operations through its partnership with the WMEP.
"It's difficult to quantify the dollar value, but if I were to venture a guess, I'd estimate that we've saved literally hundreds of thousands of dollars through our projects with the WMEP, along with improving our efficiency, creating a better work environment and improving the confidence and morale of our employees," he said.
A plant floor layout project with the WMEP could be next.
"Every project has been successful and everyone here has the highest respect and level of confidence in the WMEP team," Lavrenz said. "They're not just a group of consultants, they're a great group of people who truly are here to help you."
December, 2016