International Thermal Systems has committed to continuous improvement as a means of outpacing its competition, improving its bottom line and attracting and retaining key talent.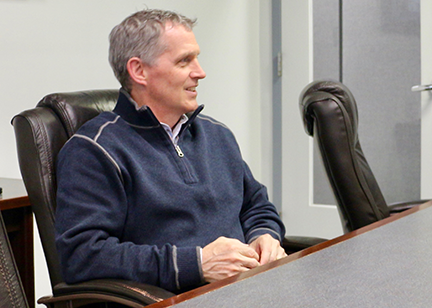 "Primarily, we've been focused on trying to educate people to understand what lean is and the concept of continuous improvement and trying to really drive a cultural change and a different mindset within the organization," International Thermal Systems President Tom Stricker said.
"There are a lot of people who have been here for 30 years or more. There's a lot of tribal knowledge and not very well-defined processes, but we have been able to be a consistently profitable organization. It's sometimes a challenge to convince people that they need to change and continuously improve if there is not a burning platform and nobody's running around with their hair on fire. But people are embracing the mindset and change."
The executive leadership at International Thermal Systems recognized the need to continually look for ways to improve their processes, said Jerry Thiltgen, operational excellence manager for the WMEP.
"By improving processes, the company is better positioned to grow sales," Thiltgen said. "The cultural transition from the old way of doing business to a new way is continually being discussed and experimented with."
The West Milwaukee-based industrial firm is essentially a conglomeration of four companies – LTG Technologies, which manufactures industrial ovens, washers and dryers used in manufacturing processes; Continental Equipment Corp., a unit that produces an industrial parts washer line; Industrial Heat Enterprises Inc., a provider of thermal and cleaning solutions; Oven Systems Inc., a worldwide supplier in the battery and metal packaging industries.
International Thermal Systems, whose roots date to 1926 with the founding of LTG Technologies, took on its present structure, with its current ownership group, in 2010.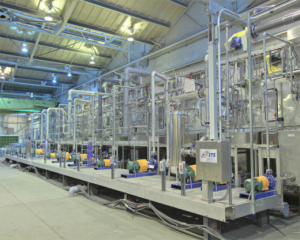 Engineering, manufacturing and research and development functions are housed at the West Milwaukee site. The company's newly expanded facility in Shanghai, China, provides additional engineering and manufacturing capacity and sales support. A sales office in Stuttgart, Germany, broadens the company's presence in Europe, the Middle East and Africa.
International Thermal Systems' workforce stands at about 105 employees, including 85 at the company's 77,500-square-foot facility in West Milwaukee, with 15 to 20 at the facility in China.
The company offers a wide range of product lines.
The metal packaging products group makes items for the global beverage and food can-making industry.
The industrial parts washer business, acquired in 2013 from Continental Equipment Corporation, produces washer systems used in manufacturing and fabrication processes to clean contaminants from products. The business is focused almost exclusively on the United States, Canada and Mexico.
International Thermal Systems also provides ovens and dryers for the lead-acid battery industry, a segment that traditionally has been focused in North America but has begun growing internationally.
The industrial products unit makes ovens and furnaces that are used in a wide variety of industrial manufacturing and fabrication applications.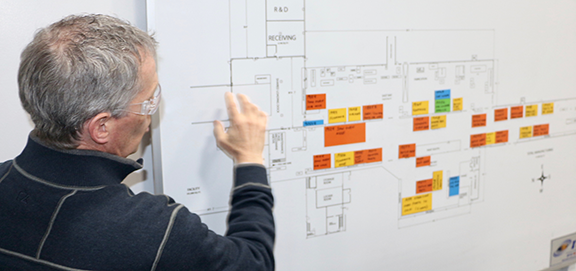 The company has a broad customer base, which includes metal packaging companies, such as Ball Corp., Ardagh Group and Crown Holdings Inc, formerly Crown Cork & Seal Co., as well as several regional can manufacturers.
Customers for the industrial parts washer business are fabricators who work with metal that needs to be cleaned at points during the manufacturing process.
Battery unit customers tend to be manufacturers of lead-acid batteries, including Exide Industries, East Penn Manufacturing Co. and Banner Batteries.
On the industrial products side, customers include major companies, such Kohler Co. and Spirit AreoSystems.
Stricker described International Thermal System's overall business as "consistently strong."
"We're not growing a lot, but we are consistent from a top-line side," he said.
International Thermal Systems turned to the WMEP at the recommendation of a colleague of Stricker.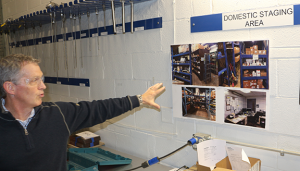 "We met with the WMEP as well as a couple of other service providers," Stricker said. "We liked the WMEP's focus on Wisconsin manufacturing and the fact that the organization is Wisconsin based. And the pricing was reasonable, so we decided to work with the WMEP."
Stricker sees many opportunities for continuous improvement within International Thermal Systems, a sentiment he said is shared by the company's chairman, John Zea.
There's no reason why we can't dominate in every business sector that we are in," Stricker said.
Projects with the WMEP have included value-stream mapping exercises to improve throughput yield and a 5S workplace organization campaign involving various work cells on the shop floor.
Earlier this year, International Thermal Systems held an open house to showcase the improvements.
"We had a champion in each one of those areas explain the improvements," Stricker said. "People in the shop have seen this going on but those in the office are really kind of unattached. We wanted to create this event to get people out on the shop floor and see what this is all about and let them know it's coming to them, too. We are going to do all of the shop floor and then we are coming into the office."
Like most transformations, there have been early adopters and the company has experienced success in certain areas of the plant from their continuous improvement efforts, the WMEP's Thiltgen said.
Thiltgen credited Stricker for taking a highly active role in creating a culture of continuous improvement and employee engagement.
International Thermal Systems has also conducted kaizen events – short duration improvement projects – to address specific issues.
"We've identified specific problems and we've had a week long event where we've sat down and identified root causes and corrective steps and documented the process changes we made and then audited those processes," Stricker said. "We've got a continuous improvement idea board, as well, where employees come up with their own ideas. It is intended to be the quick-hitter things that employees see in their areas that can be improved upon."
From 1997 to 2012, Stricker worked at HK Systems, a New Berlin-based provider of automated material handling systems and warehouse management software that was acquired by one of its competitors, Dematic in 2010.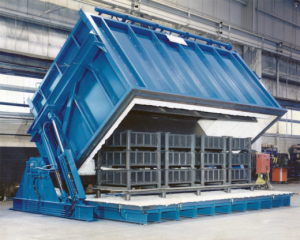 "I had exposure to lean and continuous improvement at HK Systems," he said. "I really could see how it positively impacted the organization."
Stricker then worked for Gardner Denver in Milwaukee for two years before landing at International Thermal Systems in 2015 as General Manager of the Metal Packaging and Parts Washer product groups.
"I enjoy being part of a company that makes products," Stricker said. "I like to be able to walk out into the shop and see what we are doing."
International Thermal Systems has experienced an array of benefits from its lean transformation.
One of the things that came out of a kaizen event was a reduction in warranty issues. We have seen a direct impact this year on warranty numbers compared with last year, just by the changes we have made. We've seen a reduction in the cost of quality. We've also seen some efficiencies in time on the shop floor with the 5S events, reducing the multiple handling of some of the product."

International Thermal Systems President, Tom Stricker
Changes have included receiving piping in the part of the shop where it's used.
"We used to receive it with everything else and it would be stored there and then shipped over to the piping area when it was needed," Sticker said. "You had multiple touches on the product. Now, it's very simple. We created a rack that is right there in the area where it's needed. The pipe gets unloaded off the truck and goes right into the rack. It's one touch. So, we've seen efficiencies in that area."
Another benefit is having employees embrace continuous improvement and take responsibility for their own areas in the shop.
"One of the things we needed to get better at as an organization is empowering people to make changes versus somebody on high telling them what to do," Stricker said. "It's not across the board. We've still got a few naysayers, but one of the things that has been key to this is that our chairman John Zea has been clear that we are going to do this. We are on the same page. There's not an option. We are going forward. We're serious about this. Senior leadership is committed to this."
Lean transformation has had a positive effect on International Thermal Systems' bottom line, Stricker said.
"The prime example is reducing warranty cost, which is contributing directly to the bottom line," Stricker said. "I do fundamentally believe that it will help us with the top line as well. Bringing customers through here so they can see how well and how efficiently we are operating is going to instill confidence. It's going to help us with our lead times, too."
Like many manufacturers, International Thermal Systems faces workforce challenges, especially when it comes to attracting young talent.
"I know from first-hand experience it can be very frustrating as a new employee if you don't have defined processes," Stricker said. "When bringing new people into the organization, they aren't going to stay if it's too difficult for them to figure out.. There's a cultural shift that we have to make as an organization. That's all part of the continuous improvement process. We need a well-defined, well-functioning onboarding process."
The relationship between International Thermal Systems and the WMEP is continuing, with several other projects currently being mapped out. Company management continues to have regular meetings with Thiltgen.
"Jerry meets with our steering team and me just to make sure we are on track and to provide some perspective and to challenge us and encourage us," Stricker said. "Honestly, sometimes what Jerry has done is be a cheerleader, to say 'Hey, guys. You are making more progress than you think you are making.'"
The WMEP will continue to support the cultural transition at International Thermal Systems by promoting employee engagement and recognizing how leadership behaviors support or hinder the process, Thiltgen said.
"We will be working with the company to review more processes for improvement opportunities," he said.
The WMEP's wide-ranging experience in continuous improvement has been highly beneficial for International Thermal Systems, Stricker said.
"What the WMEP has is a perspective of having seen lean in so many other organizations and environments," he said. "It has been a good sounding board for us and a good sanity check."